CSiR Desktop Air Disinfector (DAS-8) Specifications
Highlights:
Neutralize 99.69% of Bacteria and Viruses
Extremely High Intensity Multi Wavelength UVC
Combination Of Ozone & Ultraviolet Disinfection
Nano Titanium Dioxide Photocatalysis
360˚ Purification From All Directions
Input: DC 5V/2A with USB-C
Battery Capacity: 4000mAh
Size: 170(H) x 80(W) x80(D)mm
Can Place at: Bedroom, Car, Bathroom, Office, Hotel, Study, Living Room, Wardrobe
The Portable Air Steriliser
Remove 99.69% of Bacteria & Viruses
A portable air disinfector device with advanced disinfection technology eliminates viruses, bacteria, allergens, germs, etc. Keep you and your loved ones in double protection during the COVID-19 pandemic. It helps to reduce the risk of airbone transmission of viruses around you.
The Air We Breathe Is Not As Clean As We Think
CSIR Desktop Air Disinfector is designed to disinfect the air that goes through the sterilizer. Through continuous circulation, the air steriliser device disinfects and eliminates bacterias & viruses in the air around you.
THE TECH BEHIND – The 3 Unique Air Disinfection Method
Proven In Independent Microbiology Institute To Remove 99.69% Of Bacteria In The Air.
Disinfection Method 1

Extremely High-Intensity Multi-Wavelength UVC Composite Ultraviolet Rays Irradiate The Air: Break the RNA or DNA virus strands in the air at high speed.
UV-C light sources inactivated 99% of the virus on a surface within seconds. 3.7 mJ/cm² UV-C has an inactivation rate of 99.9%, while 16.9 mJ/cm² UV-C can completely kill all viruses.

Disinfection Method 2

Combination Of Ozone & Ultraviolet Disinfection.
There is also a 185nm vacuum ultraviolet lamp in the disinfection device, which produces a small amount of ozone, which will kill bacteria and viruses in the air when it comes in contact with the air entering the sterilizer. At the same time, under the closely adjacent UVC ultraviolet radiation, ozone quickly decomposes into oxygen and oxygen ions, so only a minimal amount of ozone will overflow outside the device, continue to disinfect the viruses in the air at a safe dose, and finally follow the air diffusion attenuation disappears.

Disinfection Method 3

Nano Titanium Dioxide Photocatalysis.
Nano TiO2 Technology possesses bactericidal and virucidal properties caused by photocatalytic reactions. Research shows that titanium dioxide nanoparticles destroyed the influenza virus after 30 mins.

A dedicated nano titanium dioxide metal plate is equipped in CSIR Air Disinfector, absorbing and reflecting ultraviolet rays. The superoxide anion radicals react (oxidize) with most organic substances, trigger a chain reaction, and finally cause bacteria to decompose.
360˚ Protection
Through 360˚ purification, CSIR absorbs bacteria & viruses from all directions and 360˚ air outlet provides more amount of purified air.
Minimalist Design
Sleek look & fits everywhere
One-Touch Button
One click on the button to start eliminating harmful bacteria & viruses.
Quiet Operation
The air disinfector runs quietly for uninterrupted work, sleep and study
Small & Mighty
Easy to carry everywhere, even in the office, home, hotel, or traveling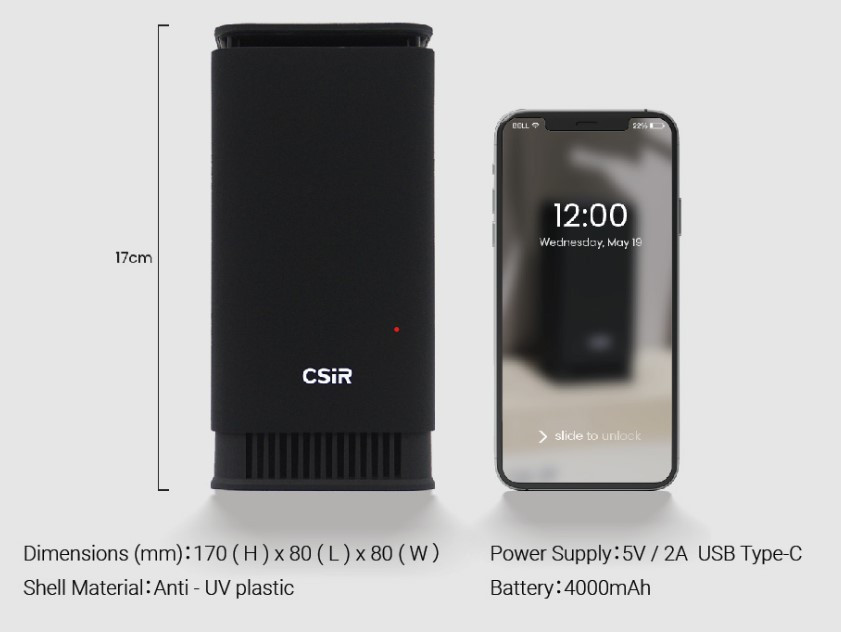 Other Features
Enjoy your own fresh, clean air in the office, home, hotel, or traveling
CSIR个人防护系列~空气消毒器
一台个人近距离消毒的"神"器,引用世界公认成熟的三大消毒技术,可有效抑制细菌病毒,过敏源与異味等有害物质。还得到 2大国际认证 (CE 和 ROHS) 。特别是ROHS认证,使用材料不含有毒放射物。能让您一家大小安心使用,就是CSIR。CSIR个人空气消毒器。安全由个人做起!通过循环消毒CSIR 空气消毒器为您打造一个安全的生活环境。
RoHS 及 CE
RoHS证书究竟是什么?
RoHS认证是由欧盟立法制定的一项强制性标准,它的全称是《关于限制在电子电器设备中使用某些有害成分的指令》 (Restriction of Hazardous Substances) 。该标准已于2006年7月1日开始正式实施,主要用于规范电子电气产品的材料及工艺标准,使之更加有利于人体健康及环境保护。该标准的目的在于消除电器电子产品中的铅、汞、镉、六价铬、多溴联苯和多溴二苯醚.
CE证书究竟是什么?
"CE" 标志是一种安全认证标志。CE代表欧洲统一(CONFORMITE EUROPEENNE)。 产品上贴有CE认证标志的制造商,声明产品符合所有必要的要求(法规和标准),并且可以在经济领域销售。CE认证证书为商业界和消费者确保了两大优势。商业界承认,带有CE认证标志的产品可以在欧洲经济区销售而不会遇到任何障碍,消费者可以放心,他们购买的产品符合所有必要的健康,安全和环境要求。
保固期:一年